How to create a Custom room In PUBG
PUBG Mobile is one of the biggest online multiplayer games, and the game gains popularity every day, in PUBG you can play with random players on the internet but a player can create a custom room to play this game with their friends, and even they can have held a tournament of different players. Many players are just getting started and are unaware of the customizable room feature included with PUBG Mobile.
In this article, we will cover some important points regarding a custom room in PUBG mobile, such as what a custom room is, how to join and create a custom room in PUBG mobile.
What is the Custom room?
A custom room in PUBG is a feature in which we can create our private custom room using Room cards and play with our friends easily by sharing room IDs and passwords with them. Other people having id and passwords can only join your custom room otherwise no one else can enter the room without id and password. You can also change the settings and make the rules of the customs room.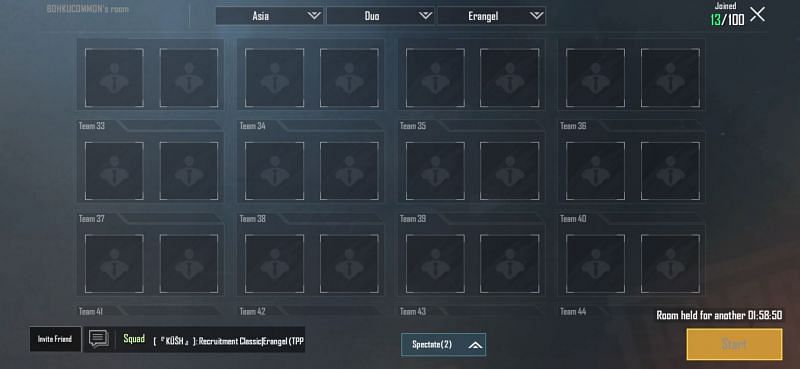 How to get a Room Card?
If you don't have a room card, you cannot create a custom Room in PUBG. If you have a room card, you can find it in the inventory and after using the card it will disappear from the inventory, there are several methods to get a room card in PUBG.
Buy an Elite royal pass from the in-game store by spending 100 Battle Coins. you only have to buy the Elite Royale Pass once to get it every season. After getting to level 100 you will get back all the UC you spend to get the royal pass. The Elite Royale Pass will give you up to 3 Room Card by completing missions and reach certain levels of the Pass.
Another way to get Room card is to buy it from clan shop, you have to join a clan to gain access to the clan shop. But you can only use it only one time. If you want to create another custom room you have to buy it again from the shop. It will cost you 300 point for one card.  
How to create a Custom room In PUBG?
Players who have created a custom room can set their own rules for the match and can choose any map or server for the custom match. You can use customizable rooms for tournaments, events, and matches. Creating a custom room is not a difficult task it is very easy to create a custom room in PUBG. We are going to teach you how to create a custom room in PUBG so you can enjoy this game with your friends and enhance your gaming experience
We can create a custom room in PUBG by following these steps:
Step 1: First of all, open PUBG and click the Select mode option located at the lower-left corner of the screen.
Step 2: press the room icon at the left corner of the screen under the training session.
Step 3: Click the Create room button in the lower right corner of the screen.
Step 4: Customize the room setting just the way you like.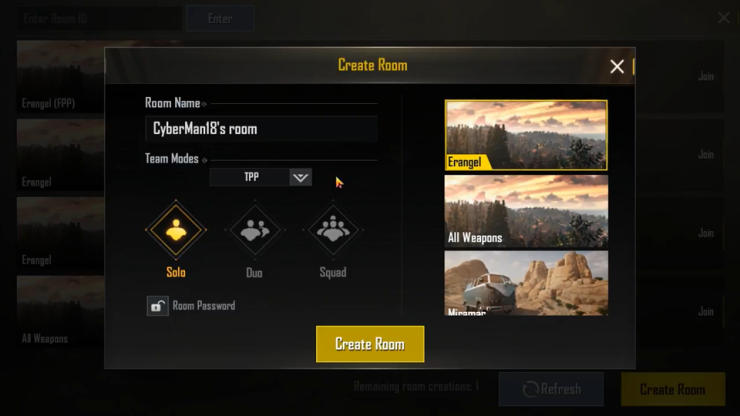 Step 5: Once you are done with the settings click on the create room button again.
Step 6: Share the Room ID and passwords with the people you want to play with or with your friends
How to join a Custom room?
You can also join a custom room someone else created, if you are new to this game want to join the custom room on your PUBG mobile, follow these steps to join a custom room in PUBG:
Open your PUBG mobile game and wait until you enter the main lobby. Now click on Map Select Mode and then click on Rooms.
You will be taken to the rooms section where you can find all the rooms created by the server and the match mode type.
Now enter the room ID in the search area and press the Enter button. Tap the filtered room result, then enter the correct room password.
Press the Enter button to join the custom room.
Follow these simple steps to create a custom room in PUBG.
Happy Gaming. See you In-Game!