TOP 10 BOWS IN SKYRIM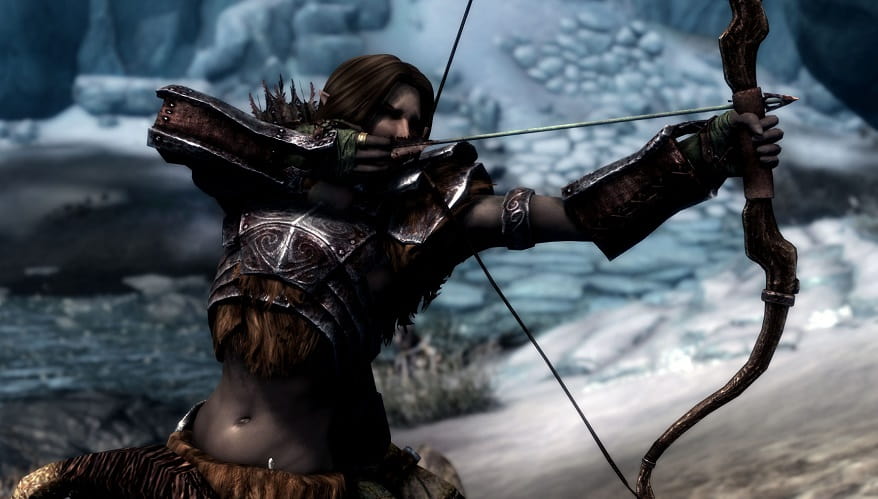 Skyrim was released in the year 2011 and it is an action-based game. User can customize their own character in Skyrim and can choose a main weapon type for the character. If you prefer long-range weapons, then bows are the strongest weapon in Skyrim. Bow and arrows are lightweights so any character can take advantage of them. In Skyrim plenty of bows are available and users can choose from and customize their unique build.
1. Glass Bow
The Glass bow is an effortlessly accessible weapon to enhance your damage output in the early levels of the game. Glass bow is a decent weapon for light armor users. The Glass Bow requires a Smiting level of 70 and a glass smith perk. You can take it from your enemies or buy it from a goods merchant or you can even find it in loot chests. Glass bow can be upgraded with a Refined Malachite.
Weapon Details
Base Damage: 15
Weight: 14
Speed: 0.625
2. Firiniel's End
Firiniel's End is another bow with awesome enchantment. It is a Quest Related bow, the enchantment to this bow offers frost damage to the health and stamina of enemies. The location of this bow was revealed by Gabriella while preparing for the assassination of Vittoria. The base value of this bow is 662 gold. Firiniel's End can be upgraded with Refined Moonstone.
Weapon Details
Base Damage: 13
Weight: 12
Speed: 0.687
3. Daedric Bow
This bow design makes it one of the best bows in the game it is the coolest looking bow in the game. It is designed with several spikes which make the look badass. The design of this bow is demonic in appearance the Daedric bow requires a Smiting level of 90 and the Daedric Smithing perk to create. The base value of this bow is 2500 gold and Ebony Ingot is required for its upgrading.
Weapon Details
Base Damage: 19
Weight: 18
Speed: 0.5
4. Dwarven Black Bow of fate
This is a black bow with marking that glow orange. It is a unique Dwarven bow that isn't level-dependent. You can achieve Dwarven Black Bow of Fate interior Kagrumez it is placed at the back of a gate that can be accessed through accumulating all Resonance Gems. It can be tempered with an Ebony Ingot and has a base value of 1446 gold.
Weapon Details
Base Damage: 13
Weight: 10
Speed: 0.75
5. Nightingale Bow
Nightingale Bow is a very unique bow; we can obtain it in Thieves Guild's questline. Karliah originally owned this bow. As it is a leveled weapon so the damage, weight, and speed change with the level which means the bow does more damage and will be worth more. The Nightingale bow can be upgraded with an ebony ingot and the Arcane Blacksmith perk.
Weapon Details
Base Damage: 12-19
Weight: 9-18
Speed: 0.5
6. Ebony Bow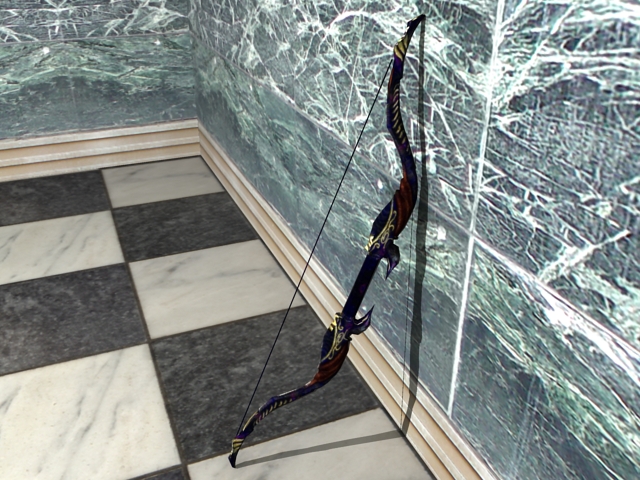 The Ebony Bow requires a Smithing level of eighty and the Ebony Smithing perk to create. The ebony bow can be crafted at a blacksmith's forge using 3 ebony ingots. You can also find this bow in loot and also this bow is sold by merchants. If you want to sneak, re-position among shots, or fire long-range, the Ebony bow is a way superior.
Weapon Details
Base Damage: 17
Weight: 16
Speed: 0.562
7. Drainspell Bow
The Drainspell Bow is certainly considered one among four specific ghost weapons wielded by spectral variants of draugr. It is part of a set of comparable phantom weapons, along the Drainblood Battleaxe and Drainheart Sword. It is a two-handed weapon. You can loot Drainspell bow during the quest 'The Staff of Magnus' from a Ghost Draugr in Labyrinthian Thoroughfare.
Weapon Details
Base Damage: 14
Weight: 6
Speed: 0.8750
8. Auriel's bow
This Bow is an ancient and one of the powerful bows carried and used by the elven god Auri-El. tee bow's mystical strength is connected directly to the sun which is a link to Aetherius. we can obtain this bow at the end of the "Touching The Sky" quest. The enchantment offers sun damage and triples the damage if the enemy is undead.
Weapon Details
Base Damage: 13
Weight: 11
Speed: 1.00
9. Karliah's bow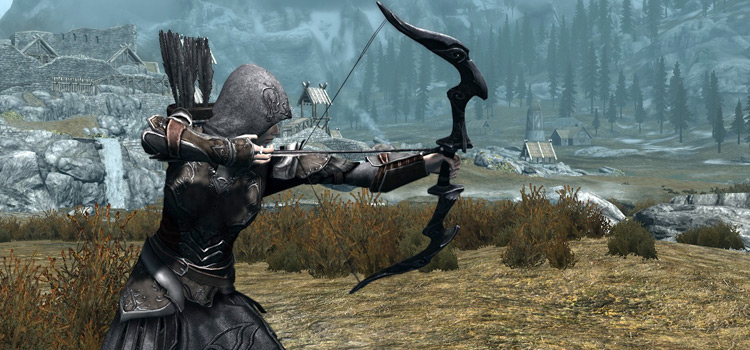 Karliah's bow is unique. This is a version of Nightingale's bow used by Karliah. Without console command this bow is not obtainable, This bow is worthless gold only 5 gold. Has huge base damage on the enemy and is light weighted.
Weapon Details
Base Damage: 25
Weight: 9
Speed: 0.6250
10. Dragonbone bow
This bow has the highest base damage (excluding Karliah's bow). If you want to craft dragonbone bow Smithing level of 100 and the Dragon Armor perk are required. You need an ebony ingot and two dragon bones to craft it. And you can use dragon bones to upgrade it. You can also obtain it by defeating a Keeper in the Soul Cairn.
Weapon Details
Base Damage: 20
Weight: 20
Speed: 0.75
These are the top and the best 10 BOWS IN SKYRIM.
Happy Gaming!