Top 20 PC optimizer software for gamers
Computer gaming involves the full-fledged functioning of computer components and programs. It is, therefore, essential for a gamer to allocate the maximum potential of PC to the game faculty. Game optimizers are the software that is made to orient a computer system for the best possible gaming experience. They tune the hardware and OS in a way that ensures a game work seamlessly — avoiding any potential lag, graphic distortion, or crashes. Game optimizer software is available in a variety. To help you out, we have picked up the best game optimizers for your PC.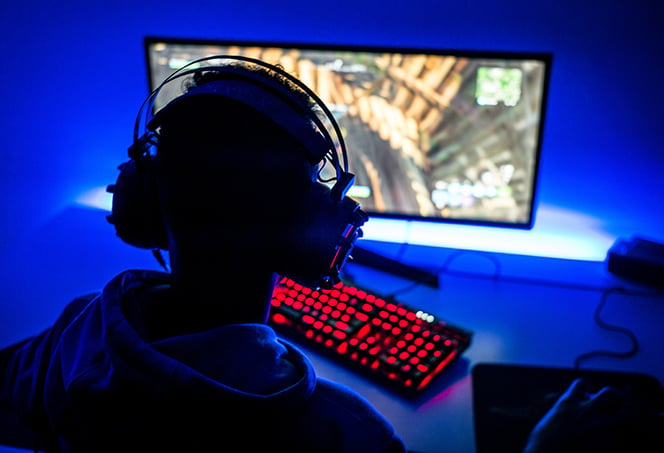 1. Wise Game booster
Wise booster is an easy and user-friendly booster to optimize your PC for playing video games. It guarantees game stability and implements useful techniques for making PC faster. It also enables computer components to function in a faster way. Wise examines your PC and sees if the system can feasibly manage game functionality, given the software and hardware requirements of a game. The capability of this software is a bit similar to Razer Cortex.
2. Razer Cortex
Razer Cortex is one of the excellent game boosters for PC that maximizes the potentiality of a computer system to let games play without any abruptions. It offers extra display size and recording utilities. It also works to erase junk files to free up the storage and optimize for disk cache. Razer Cortex optimizes RAM, CPU, and GPU. It makes your PC effective for gaming by shutting down all useless applications, thereby providing smoother gameplay and better FPS.
3. GameBoost
GameBoost is a useful game booster for Windows. It increases the processor velocity and refreshes the RAM functioning. By using this software program, the overall performance of your computer will become better. Nearly all types of customers can use this software. GameBoost is well-known for its over-clocking and modifying the default frequency of numerous components. It focuses on animation, screen drawing, CPU, refresh rate, and other hardware functionalities. GameBoost is much like the MSI Afterburner for its over-clocking feature. As for availability, this software is not free, since its features are multiple. The user has to pay a monthly $24.98 subscription fee.
4. SpeedItUp Free
SpeedItUp Free is another famous gaming booster for Windows running computers. It accelerates your PC — up to three times. The device resultantly stops all needless activities to free up RAM. SpeedItUp Free is a full-fledged tool for Windows PCs. It removes junk files in customized periods.
5. Iobit Game Booster
Iobit Game Booster is the most appropriate PC booster for home computers. It shuts down all background processes. It increases the processor's overall performance by cleaning RAM. Iobit puts programs of Windows on standby. You can restore the hibernated programs. It offers various features like one-click installation, smooth gameplay, safety, and security. It is 100% freeware without any adware, spyware, and malware.
6. UltraMon
UltraMon is another software for Windows to apply for multiple displays. Realtime Soft is the developer of this software program. It gives diverse functions like customizable button location, scannable wallpaper option. Besides this, it improves CPU speed to let a game operate, thereby ensuring rapid gameplay of high graphics.

7. CCleaner
CCleaner is the ideal solution for slow computers. It is one of the exceptional PC boosters for Windows with over 2.5 billion users. After putting this software in practice, you may need to perform a cleanup test to assess your PC. CCleaner comes in both paid and nonpaid versions.
8. 50X Game Booster Pro
50X Game Booster Pro is one of the excellent PUBG boosters for Android. However, it can be applied to Windows 10. It is enormously powerful for loopy video games and gamers who want to make video games lag-free.
9. GPU-Z
GPU-Z is another extraordinary software supported by Windows. It shows CPU temperature, memory frequency, core frequency, and many other functionalities.
10. Smart Game Booster
Smart Game Booster is one of the most dependable boosters for Windows 10. It is easy to use, and game enthusiasts can use it smoothly. To increase processor velocity and FPS, this tool can be used. During real-time gaming, it regulates CPU temperature and GPU. Smart Game Booster is specialized in gaming boosting. The software allows you to launch extra gadget assets and disable your startups' items.
11. Mz Game Accelerator
Mz Game Accelerator is an ideal game booster for low-ranking PC systems. This recreation booster for Windows increases the performance of low-configuration PCs. It does not require any restart after initializing the software program. Mz Game Accelerator cleans the needless packages, thereby lessening the burden on RAM. Unlike other software, the features of this software program also are the same.
12. ToolWiz Game Boost
ToolWiz Game boosts is a secure and stable software that enables you to play online games without lags and errors. It optimizes your PC and makes it able to play excessive-velocity games. ToolWiz Game Boost makes all CPU and RAM efficient to offer excessive performance. It performs defragmentation, removes all the game documents to make your memory faster. A beginner gamer can use this software program with ease.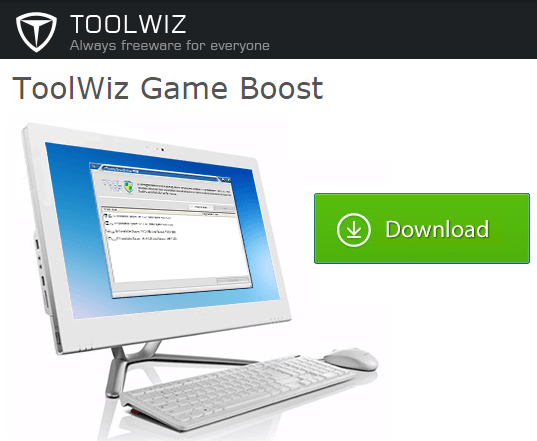 13. Chris-PC Game Booster
Chris-PC Booster for Windows is another easy-to-use software to increase gaming performance. It optimizes your CPU performance, graphics, and network settings. It guarantees the quickest net speed, CPU prioritization, faster internet speed, and faster gaming graphics. Chris-PC Gaming Booster is an amazing gaming tool that refreshes your PC in a single click. The requirement of the software program is one thousand MHz processor or higher, greater than 128 MB RAM and 10 MB HDD space.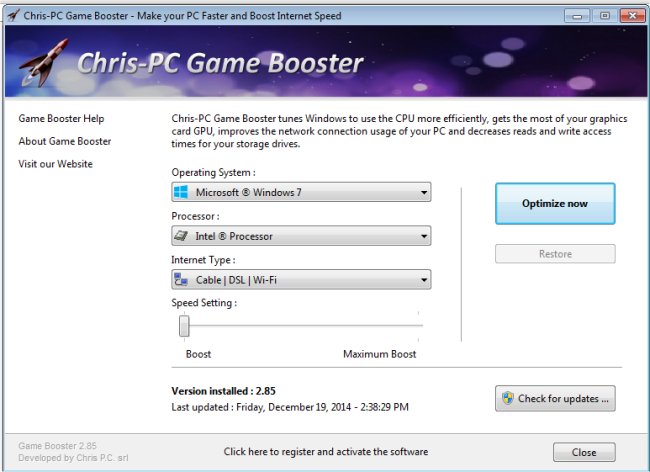 14. UU Game Booster
UU Computer Booster is one of the first-rate Android gaming boosting App, however, it could also be implemented on Windows. Many want to play Android games on Windows PC. To make the gadget workable, you can use this Android Emulator. You may get three days of a loose trial.
15. Gaming VPN
During your online gaming, a few different tools can contribute to boosting your PC. Gaming VPN is one of them. It will assist you to take away the geographical barrier. It can also accelerate your gaming overall performance and prevent security threats to your gaming system.
16. PC Game Boost
PC Game Boost is a smart PC booster for Windows that offers one-click action to enhance your computer. Within a second, it optimizes your PC. In your game, it boosts FPS and presentations FPS. Moreover, you can check your CPU and GPU temperature. PC Game Boost is free to download for Windows 10/8/8.1/7/Vista/XP. Some different important functions are Over-clocking, PC Temperature, Game Launcher System, Optimizer, Disk Defragmentation, Free Driver Updater, and PC Game Recorder. The size of this software program is 20.1 MB.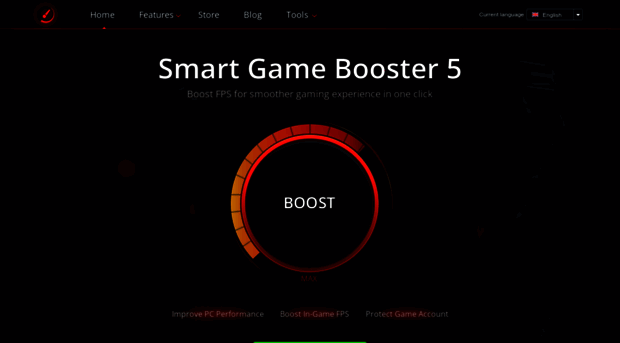 17. Game Fire 6
Game Fire 6 has a few awesome functions like brief access to Windows tools, overall performance monitor, memory diagnostics, and defragmentation. It identifies the processes that are supposed to be closed. Game Fire 6 is one of the high-quality boosters for Windows PC. It indicates the real-time operation, which shows the compatibility level of your device. The software is not free; however, you get a trial period.
18. WTFAst
WTFAst solves the hassle of lousy lag and excessive ping. It is an excellent software program to optimize your gaming activity. The software reduces the game lag and ping that improves the PC's overall performance for playing multiplayer games. WTFAst specializes in making the internet speed better for online gaming. It guarantees you a smooth gaming experience. It also repackages your internet statistics and streamlines overall performance.
19. Advanced System Optimizer
Advanced System Optimizer is a multi-purpose optimizer to optimize PCs for gameplay. It removes the needless documents to make higher performance possible. This boosting software program is exceptionally effective. If you need to get any lag-free gaming experience, Advanced System Optimizer is the right choice for you.
20. MSI Afterburner
MSI Afterburner is one of the exceptional boosters for Windows. This software is preferable since it is based on a simple interface and ensures maximum feasibility during gameplay. MSI Afterburner improves the overall performance of your hardware. It regulates CPU temperature, voltage, and clock velocity. It additionally manages MSI GPU, portraits card, and other hardware functionalities. The velocity booster for Windows improves gamers' enjoyment with overclocking options. Some extra features consist of benchmarking, monitoring, recording, and customizing fan velocity. It offers plenty of freedom to personalize your gaming operation.
These are the top and the best 20 PC optimizer software for gamers.